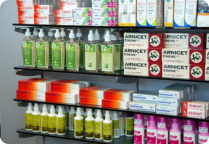 Vencer Care's Retail Pharmacy provides a personalized connected experience of care that you can expect from the Vencer Care name. We have a full-service pharmacy offering fast friendly prescription service as well as over-the-counter products to help maintain your health and wellness. We accept most insurance plans and offer a full-line of vaccinations for adult patients on a walk-in basis.
Our pharmacy has the intimacy of a neighborhood pharmacy and can serve all your medication needs, including online prescription transfers and refills.
For personalized consultation and questions please call us at 908-469-2221 or email us at info@VencerCare.com.