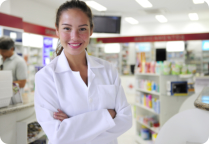 Quick Response is more than the a service we offer. It is a core pillar of what makes us who we are. It is our promise to you and your residents that we will respond quickly and tirelessly to provide solutions to any and all of your pharmaceutical needs.
The Quick Response Promise includes:
Development of a medication delivery schedule that meets your facility's unique needs
New admissions and emergency (stat) orders when you need them
Responsive and attentive customer service
On-site consultation and support
Contact us today to learn more about how Quick Response can help you deliver outstanding care for your long-term organization.