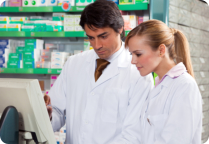 We are combining innovative technology with cutting-edge eMAR to transform patient care.
As a paperless pharmacy, we utilize a state-of-the-art platform designed specifically for our needs, and easily integrated with most eMAR software.
And to ensure steadfast service and accuracy, our reliable delivery team employs bar code tracking and automated scanning technology with signature capture.
Real Time RX
Our clients can now enjoy secure, real-time access to the most up to date information available.
Our specialized computer interface gives you the on-line ability to:
Admit and discharge patients
Access and maintain patient records
Order new meds and refills
Print out MARS/TARS for new admissions
Get pre-admission drug pricing and quotes
The Return Process Made Simpler
We provide all our clients with special software that enables your staff to scan all returns and print out a packing slip "for pickup" by our drivers. This new feature streamlines returns – taking full control of the process so that with no medications get lost in the interim.
Quality Assurance Checkpoints
Medications can be monitored in real-time as they move through the dispensing system via three checkpoints. With a quick on-line check, you can see the status of you order.
Storing all accounts electronically translates into easy access to all your information.
Reports can be customized to your internal needs, and our bills are formatted in a clear and concise fashion.